So you want to start spreading the news. Take a bite out of the Big Apple. Wake up in the city that never sleeps. You get the picture—you want to go to New York City. Great choice! It's one of my favourite cities on the planet, and I try to get there at least once a year.
There's just one small problem: Manhattan is a little over 700km from Ottawa—not exactly around the corner. Here are five options for covering the distance.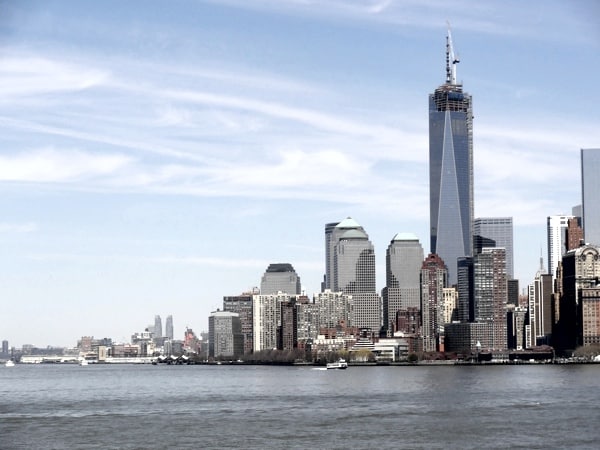 For the budget-conscious: The bus
If you are tall, claustrophobic or prone to motion sickness, I wouldn't recommend this option. I did it once, on a school trip, and had a blast—but I was 21 and much more flexible, in every sense of the word, than I am now. But if the idea of 11-plus hours on the road doesn't faze you, here's the good news: You can do the whole trip return for a little over $200 on Greyhound (prices vary depending on the route and time of day; you'll likely need to transfer buses in Montreal). Several tour companies, including Ottawa Valley Tours and Travac Tours, offer bus tour packages from Ottawa to NYC that include accommodation.
For the laid-back: The train
It's no faster than the bus, and it frequently runs late. The food is cafeteria quality at best. But you can get up and walk around, and the views of the Hudson River are spectacular. This is life aboard The Adirondack, the Amtrak train from Montreal to New York City. The price is right (about $141 return), but you'll also need to get from Ottawa to Montreal, so that's extra money and time. All this being said, I have a lot of warm and fuzzy nostalgia for this train. There's something uniquely lulling about watching the scenery unfurl outside your window for hours on end. Bring a stack of magazines, a few gadgets (there's free, if sometimes intermittent, wi-fi) and a cooler of food (we used to stock up at Zabar's deli in Manhattan for the trip home).
For the efficient: The car-train combination
New York City is very well served by an extensive web of commuter train lines, including the Metro-North Railroad, which runs along the eastern shore of the Hudson River. Conveniently, many of those stations offer cheap long-term parking. Several times, my husband and I have driven to Beacon, 600km from Ottawa and a 90-minute train ride north of Manhattan, ditched the car and hopped a train into the city. Beacon is handy because the station is easy to reach from I-87 (see directions on the station's web page).

For the frequent flyer: Plane
Yes, you can fly to New York; I've done it several times. But it isn't that much faster than the car-train combination and it's a lot more expensive (expect to pay at least $400 return unless you get a sweet seat sale). As well as the usual air travel hurdles (security lines, weather delays), you'll face the added hassle of getting into Manhattan from your chosen airport. For a city where many residents don't have cars, New York's three airports (Newark Liberty, La Guardia and JFK) are surprisingly poorly served by public transit. Sure, it exists, but it's slow. From Newark, for instance, many travellers take the Air Train to the nearby Newark airport train station, then switch onto an Amtrak or NJ Transit train to get to Manhattan's Penn Station, then catch a cab or subway to their hotel. If you're hauling luggage, it can be a bit of a pain. Alternatively, you can take a bus or splurge on a taxi, but those options can be even slower than the train, as you'll need to travel into Manhattan via one of the city's many congested bridges or tunnels.
For the adrenalin junkie: Car
Logically, there's absolutely no reason you can't drive directly from Ottawa to Manhattan. But … I've driven in Boston. I've driven in L.A. and San Francisco. Heck, I've driven in Montreal. In rush hour. But you could not pay me enough to drive in Manhattan, where drivers appear to have two speeds: "race car" and "stopped and honking." Parking, if you can find it, is heinously expensive. Every street is like a video game clogged with delivery vans, kamikaze cabbies, weaving cyclists and jaywalking pedestrians. However, this is the one method outlined here I haven't tried, so I'm not speaking from experience. If you attempt it, let me know how it goes!