It's a special two-week roundup this week, packed full of ideas for road trips in Ottawa, Eastern Ontario, West Quebec, Montreal and upstate New York between now and New Year's.
But before I disappear into the holiday vortex, I wanted to thank all of you so much for visiting this website this year, whether you've dropped by once or you come back every week. I truly appreciate your interest, and your comments and emails make this project a pleasure.
I'll be making some improvements and adding new goodies to Ottawa Road Trips in the next few months, including an expanded calendar of events, a new format for this weekly roundup post, road trip-related products and more. So stay tuned!
Merry Christmas, Joyeux Noël, a belated Happy Hanukkah, Joyous Kwanzaa, Happy Hogmanay, Happy New Year, Happy Holidays or Happy Festivus—whatever occasion you are celebrating this season, I hope it is filled with light, love and fun. My next road trip roundup post will go up during the first week in January. See you in 2018!
Ring in the New Year
Want to mark the beginning of 2018 in style? You have lots of choices when it comes to celebrating New Year's Eve.
Crowds will be gathering on Parliament Hill for the last official event of this Canada 150 year: a New Year's Eve celebration featuring DJs, hip-hop artist Kardinal Offishal, pyrotechnics and lasers. The evening's festivities start at 9pm.
The Scottish Society of Ottawa is staging a free, family-friendly celebration in the Aberdeen Pavilion at Lansdowne Park. Hogman-eh—a Canadian twist on the traditional Scottish Hogmanay party—starts at 5pm and includes pipers, children's activities, and Scottish food and drink, all culminating with a singing of Auld Lang Syne at midnight and fireworks at 12:05am.
There's more free fun at Rick Chiarelli's Alcohol-Free Family New Year's Eve at Ben Franklin Place in Nepean. Along with magicians, face painting, skating demonstrations, a talent show and sleigh rides throughout the evening, there will be fireworks at the kid-friendly hour of 10pm.
For the grown-ups, all three restaurants at the Casino Lac-Leamy are offering special menus on New Year's Eve, ranging from a $39 per person buffet at Banco Bistro to a posh, $200 per person, seven-course meal at Le Baccara.
That's just the tip of the Ottawa New Year's iceberg. For more ideas of things to see and do in town, check out this comprehensive list from Ottawa Tourism.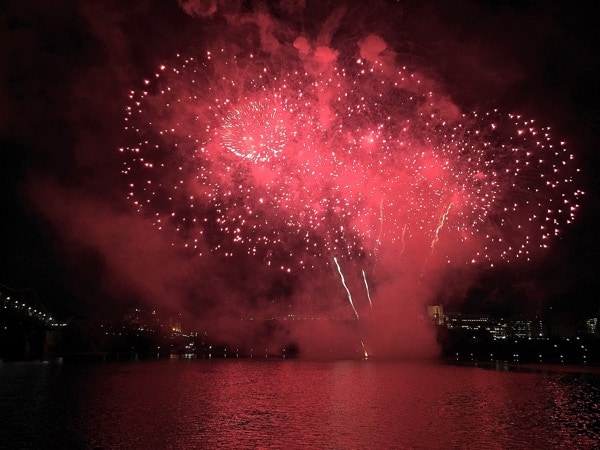 And if you're looking for out-of-town fun on December 31, I have no shortage of ideas.
At the Cove Inn in Westport, a Turpin's Trail New Year's Eve features the namesake East Coast/folk band from Kingston, along with a buffet, champagne and more.
Over a dozen performances are taking place in churches in and around Brockville on New Year's Eve, featuring everything from pipe-and-drum music to folk, blues, bluegrass, '50s classics and bell ringing. Here are some more ideas for end-of-the-year fun in Brockville.
The Perth Civitan Club is hosting a dance with Eddy and the Stingrays. Buy tickets for this one in advance, as no tickets will be available at the door.
The Pembroke Inn and Conference Centre is presenting New Year's Eve in the Valley, featuring a buffet, champagne and live music by Sidewinder.
In Fort Coulonge, the Spruceholme Inn is hosting a New Year's Eve party with classic rock 'n' roll by Little Peter and the Elegants.
Saranac Lake in New York's Adirondacks region hosts First Night, a family-friendly arts celebration with performances ranging from puppet shows to comedy, capped by fireworks over Lake Flower.
And in Old Montreal, the party goes until the wee hours (bien sur), with street entertainment starting at 6pm, a multi-act concert starting at 9pm, fireworks at midnight, and a dance party until 2am. It's part of the Merry Montreal festival (December 21 to January 1).
Take the kids to Alice in Wonderland in Ottawa
Well, it's not exactly Alice in Wonderland; it's the classic Victorian tale with a frosty musical twist. But I'll bet that all the usual suspects, from the Cheshire Cat to the Mad Hatter, will still be on hand when Alice in Winterland comes to the Gladstone Theatre in Ottawa (December 29 to January 7).
Hang with butterflies at the Canadian Museum of Nature
Does winter already have you daydreaming about warm summer days? Then you may enjoy the new Butterflies in Flight experience at the Canadian Museum of Nature (December 16 to April 2). Tickets are timed and give you entrance into a tropical-temperature enclosure filled with hundreds of free-flying butterflies, some of which may just alight on you, if you play your cards right.
Cheer on young hockey players in Ottawa
The Bell Capital Cup is one of the world's largest hockey tournaments, drawing hundreds of youth hockey teams from around the world to Ottawa. This year, you can enjoy the action from December 27 to December 31 at arenas across the city, including the Canada 150 Rink on Parliament Hill, the Richcraft Sensplex, the Nepean Sportsplex and the Canadian Tire Centre. You might just spot a future NHL star or two.
Bounce the day away in Gatineau
So the presents are unwrapped, the new toys have been played with, you've watched How the Grinch Stole Christmas approximately 47 times and the kids are getting restless. The Gatineau Playground Festival (December 27 to 30) at the Complexe Branchaud-Brière—with its 67,000 square feet of bouncy castles, trampolines and other active, indoor fun—might just be the answer to your family's cabin fever.
Take the (frosty) plunge in Perth

Not cold enough for ya yet? Then strip down to your bathing suit and take the Perth Polar Bear Plunge on January 1. (Yikes, even the video above makes me shiver!) The annual glacial dip into the Tay River, sponsored by the local Royal Canadian Legion, raises money for community causes; this year, the chosen charity is the Table Community Food Centre.
Catch an art exhibition and sale in Ogdensburg
You have until January 14, 2018, to see the artworks in the 2017 NYS Juried Art Exhibit at the Frederic Remington Art Museum in Ogdensburg, New York. The competition is open only to artists living in New York State. Some of the pieces are for sale, with a portion of the profits going to support the museum.
Giggle in Prince Edward County
Heading to Prince Edward County for a little holiday R&R? Then you can enjoy a night of music, improv and sketch comedy when the local Taste That! comedy troupe presents It's a Wonderful New Life at the Mount Tabor Playhouse in Milford (December 29 and 30).
Want more tips on road trips from Ottawa—including info on hotel discounts, contests, festivals and other cool news? Subscribe to my free weekly e-newsletter! I will never spam you—promise.
Are you promoting an upcoming event you'd like to see in a future weekly road trip roundup? Please email me the details at least two weeks in advance of the event, and I'll add them to my files. If you have a horizontal photo or two I could use, even better. Thanks!