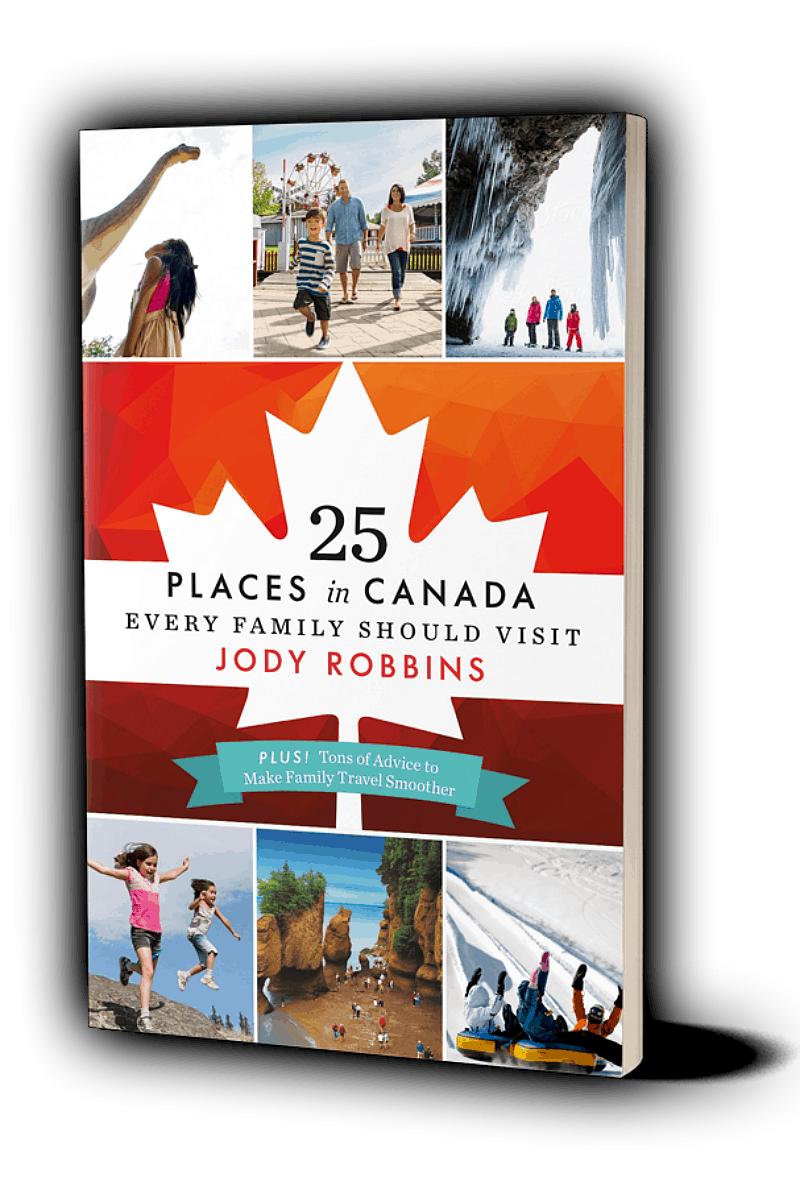 Looking for ideas for your next long-distance family road trip? 25 Places in Canada Every Family Should Visit (Touchwood Editions, May 2017, $24.95, 368pp) is packed with them.
(Full disclosure: The book's author, Alberta travel writer Jody Robbins, is a friend of mine, and she kindly used some quotes from me in the book.)
As the book's title suggests, it encompasses most of the country, with suggestions for every province, as well as Yukon. There are lots of colour photos to inspire the armchair traveller, too.
Solid tips for real families
Unlike some family travel books, which are just general guides with a few tips for kids thrown in, this one is completely focused on making trips memorable for both parents and children. Did you know, for instance, that there's a Kids' Market on Granville Island in Vancouver, complete with six toy stores and a candy shop? Or that families can "solve a case" at the RCMP Heritage Centre in Regina? Or that kids can don pint-sized uniforms and go through foot drills, roll barrels of gunpowder and send coded messages as part of a program called A Soldier's Life at the Citadel in Halifax?
Does it cover the National Capital Region?
Our region gets two entries in the book, one for Ottawa and one for the Outaouais, and Robbins has unearthed all kinds of gems. I'll bet even many Ottawans didn't know, for instance, that you can stay in a treehouse at Parc Oméga or drive a dog sled in summer with Timberland Tours.
Useful tips for travelling families
There's also a large section of practical family travel tips in the second half of the book. On the topic of saving money, Robbins offers tips on negotiating lower hotel fees and making the most of loyalty programs. To minimize the stress of taking young kids to a sit-down restaurant, she recommends trying food trucks. She even has tips for travelling sanely with another family and for packing for a camping trip.
Win a copy!
Does it sound like a book you'd like to add to your travel collection? Well, you're in luck—because I'm giving away my review copy! For a chance to win it, all you have to do is leave a comment on this post, telling me which one of the following activities covered in the book you'd most like to try:
searching for Ogopogo, the mythical creature said to live in B.C.'s Lake Okanagan
learning about dinosaurs at the Royal Tyrrell Museum in Alberta
photographing polar bears in Churchill, Manitoba
exploring a butterfly conservatory near Niagara Falls
howling with wolves near the Saguenay Fjord in Quebec
sea kayaking on the Bay of Fundy in New Brunswick
watching for icebergs off the coast of Newfoundland
viewing the Northern Lights in Yukon
I'll choose one name at random to win the book. Submit your comment by 11:59pm on Thursday, June 29, for a chance to win!
Want more tips on road trips from Ottawa—including info on hotel discounts, contests, festivals and other cool news? Subscribe to my free weekly e-newsletter! I will never spam you—promise.
Even if this post is shared on Facebook, that does not imply that this contest is sponsored, endorsed or administered by, or associated with, Facebook.
Save
Save
Save